SLOW FOOD HUNTINGTON
is now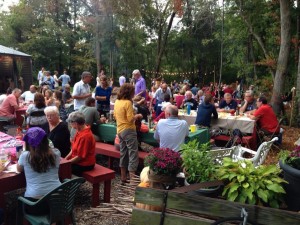 Slow Food North Shore invites you to our first Potluck of the Summer!
Sunday June 28th – 5 PM
Restoration Farm
140 Bethpage-Sweet Hollow Road
Old Bethpage, NY 11804
Click HERE for a map
Join us for an evening of conviviality, music and lively discussion.
PLEASE BRING A HOMEMADE DISH TO SHARE using one or more local ingredients (enough for about 10 servings).
We will dine outdoors weather permitting.
Please bring your own plate or bowl, cup and utensils to cut down on plastic and paper waste.
Feel free to BYO wine or beer.
Music will be provided by Josh Epstein and Craig Mehler- an outstanding young cello duo performing classical and improvisational pieces.
$10 suggested donation/ $5 Slow Food Members  (Proceeds help fund school gardens and other SFNS projects)
We will need volunteers to arrive early to help set up and stay late to help clean up.
Please RSVP to stringrrl1@verizon.net
or on Facebook at https://www.facebook.com/events/1589684981249159/
Farmers Market  Season
is upon us!
Look for SFNS at:
Port Washington Farmers Market (Map)
at the Town Dock
Saturdays  8 AM to 12 PM
Huntington Farmers Market (Map)
Village Parking lot off 25A just east of NY Ave
Sundays  7 AM to 12 PM
Sea Cliff Farmers Market (Map)
St. Luke's Church – 253 Glen Ave Sea Cliff
Saturdays  9 AM to 1 PM
(Beginning June 27th)